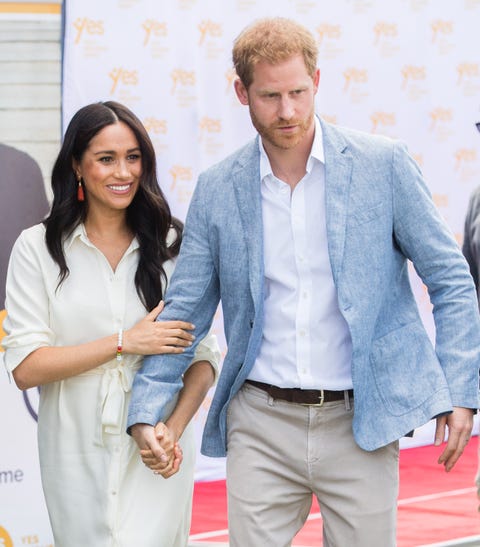 UK's Prince Harry and his wife, Megan Markle, former TV actress in the US and Canada have worked out a situation with Queen Elizabeth to end their royal duties, be financially independent and spend much of their time in North America, according to reports.
It has been speculated Harry and his brother Prince Andrew had a falling out over his relationship and marriage to Megan Markle. What do their astrology charts tell us?
The powerful Saturn-Pluto conjunction and lunar eclipse of January 2020 squares Megan's Pluto in her 4th house. This indicates a major change in her life and home, which was announced just before the January 10th eclipse. It also shows us she is the driving force behind the split and she was not happy with things the way they have been. The Saturn-Pluto conjunction falls in Prince Harry's 1st house showing changes of a personal nature and the January 10th eclipse fell in his marriage house, so he is aligning himself with Megan's desire for change.
Prince Harry and Megan Markel married May 19, 2019. At that time, Saturn had already squared her Moon, Saturn and Jupiter in her 3rd house of immediate family. We all watched this drama play out with her biological US family in the tabloids which must have hurt her deeply but this also indicates Harry's relatives as well. By June of 2018 Saturn was retrograde and crossed back over her 3 Libra planets in her house of immediate family members again and this shows more unhappiness due to immediate family or those in her immediate living area.
By January 2019, Saturn opposed her Mars in her 12th house of things that remain secret and hidden, which typically represents your subconscious mind or inner feelings. Saturn-Mars is a difficult transit that creates frustration, anger and conflict with others and it can push people to the breaking point. By spring of 2019, Saturn and Pluto had begun their heavy square to her 4th house Pluto showing a deep desire for change. This period coincided with the birth of baby Archie. She would have felt repressed and treated unfairly, which is what she stated in the Sussex's TV interview that lead to the announcement they were going to no longer be full time Royals.
Harry's chart indicates he has felt betrayed and let down as Neptune, the planet of disappointment and illusions has squared his 11th house of his hopes and wishes from his third house of immediate family. Mars square Neptune coincides with misunderstandings, lack of clarity or confusion if not depression.
Harry's natal Mars in Sagittarius shows an individual who values freedom highly, and he would have a hard time being constrained. He has stated on occasions in previous years he would like to live a freer life.
Saturn squared Harry's Venus in February, July and November 2019. This indicates he was unhappy and this transit seldom passes without feeling loss of something or someone. It typically leads to feeling unloved and unappreciated.
While Harry and his brother Prince William have publically denied a split between the two of them, Harry indicated in his interview there could be problems and disagreements between the two brothers, and it is rumored they had a falling out over Markle. It is somewhat telling that before the marriage between Megan and Prince Harry, Saturn opposed Prince William's Moon, indicating difficulty with a woman, and this is a generally unhappy period.
The powerful Saturn-Pluto conjunction and eclipse of January 2020 squares Prince William's Pluto as well as Megan's showing a major change in a relationship that will put his brother in another country much of the time. Prince William and Megan would have a difficult time connecting from the start as Megan's Mars/Saturn/Jupiter squares William's Moon. This would create emotional difficulties and anger between the two and they would not be emotionally compatible or comfortable together.
The future for the Sussex's
It appears a plan will has been laid for the Sussex split from the royal family which will take place by spring.
Saturn has crossed Prince Harry's Capricorn ascendant indicating he has left many things behind since his marriage, and is in the process of to re-creating himself and will continue to do so throughout 2020. He will feel much freer and settled with the new arrangement.
When Saturn enters Aquarius however March-June 2020, it will square Harry's 9th house Pluto. This is indicative of stress, discipline and worry or legal issues. It can create an austere attitude and professional or political problems can result. He may further sever his relations with the British Royal family at this time, but it will not be an easy go for him and he will have to rely on his own inner determination to get through it. This transit will return at the end of 2020.
By 2021 major storm clouds appear in the form of transit Neptune opposing his Sun throughout much of the year. As his Sun lies in his 8th house he could be dealing with a loss, financial problems, scandals and general confusion. This will continue into 2121.
While the road to his transition may seem smooth at first, the reality will be that he could come to regret his decision in the future.
Megan will be greatly relieved to make a change and may well go into some type of creative venture as early as late spring 2020 or 2021. She could also have another pregnancy over the next 24 months. 2020 will go relatively well for her.
2021 however will not run as smoothly as Uranus will square her Sun. Uranus-Sun indicates unexpected problems and issues with the men in her life, in particular her husband or Father. By early 2022, Saturn will oppose her Sun indicating problems with those she considers close partners. In 2022 as Saturn squares her natal Uranus she could be considering some type of move or change again.
While things may appear to be going well with the Sussex's split from the Royal family in the beginning, future years may not go as smoothly and their relationship and decisions they have made will be severely tested.